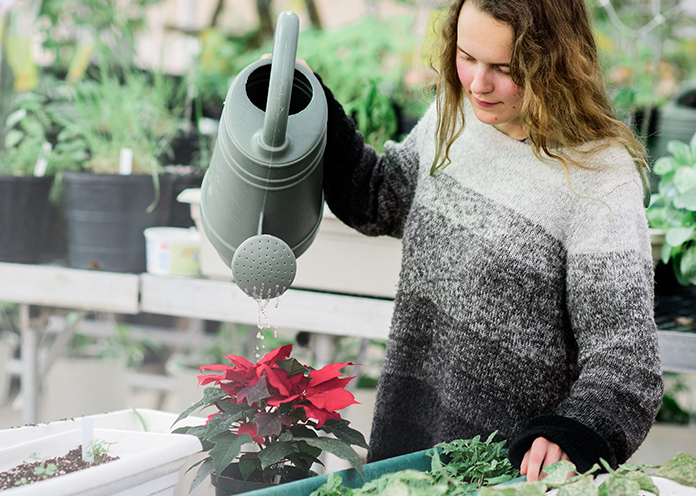 Agriscience
Gain hands-on experience in livestock animal husbandry projects, hydroponics, aquaculture, veterinary science, and natural resources such as Great Lakes ecology in our state-of-the-art facility. Be part of cutting, planting, propagating and understanding the complexities of plant growth and care.
Check out the talented Agriscience students who competed in the April 2022 FFA Agricultural Skills Contest in Lansing, Mich., and those who were elected by their peers to hold FFA officer positions. See list here.
---

Agriscience Summary Sheet
CORE SKILLS
Caring for animals/livestock
Livestock feeding/nutrition programs
Propagation of plants

Plant soil and nutrition management
Conservation/sustainability practices
Agriculture business & marketing skills
FUTURE CAREER OPTIONS
Animal health care
Production agriculturalist
Greenhouse technician

Fish/wildlife biologist
Landscape technician
Natural resource management

Livestock manager
Forester
Vineyard manager
CERTIFICATIONS and ACADEMIC CREDIT
English and/or math credit
Postsecondary direct credit (6 MSU credits)
PASSES EDGE Workplace Safety Certificate
Visual Performing Applied Arts credit

Industry certifications
OSHA basic training
Pesticide applicator certification
Early college eligibility
SETTING STUDENTS UP FOR SUCCESS
With an on-campus state-of-the-art greenhouse and immediate access to regional natural resources, agriculture and Great Lakes waterways, students thrive in an environment that encourages active learning.
LEADERSHIP and SCHOLARSHIP OPPORTUNITIES
Club participation, competition and leadership experience can occur from Future Farmers of America (FFA), National Technical Honor Society, and student council.
Presentation Resources:


Agriscience & Natural Resources Program


Introduction to AgScience Program (Feb 2021 Board of Education presentation)