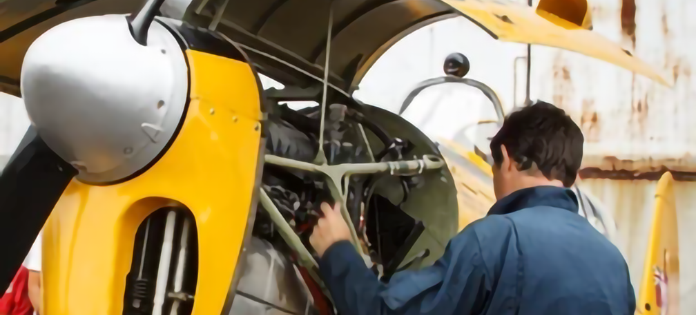 Aviation Maintenance
The air transportation industry relies on equipment which must function as designed at all times. The Career Tech Aviation Maintenance program is designed to introduce key aspects of maintenance, troubleshooting, repair and inspection of various aircraft and power plants. Students will use hand and power tools as well as sophisticated test equipment as they learn the value of high standards of workmanship necessary to succeed in the career field of aviation maintenance.
---

Aviation Maintenance Summary Sheet
CORE SKILLS
Teamwork/employability
Troubleshoot and repair hydraulic systems
Understand flight controls and landing gear

Airframe structure inspection
Physics of flight
Sheet metal fabrication
Future Career Options
Aviation maintenance technician
Airframe and Power plant (A&P) certified technician
Aircraft structure, surfaces, rigging and system assembler

Aviation inspector
Engine & machine assembler
Certifications/Academic Credit
English and/or Math credit
PASSES EDGE workplace safety certificate

Foreign object elimination certification
3rd Year Science waiver option
2nd Year World Language waiver option
Setting Students up for Success
Students will gain knowledge through a hands-on approach to learning the mechanics of flight, maintenance and components of modern aircraft. Job shadow and work experience programs often lead to employment following graduation.
Leadership & Scholarship Opportunities
Club participation, competition and leadership can occur with Skills USA, National Technical Honor Society and student council.