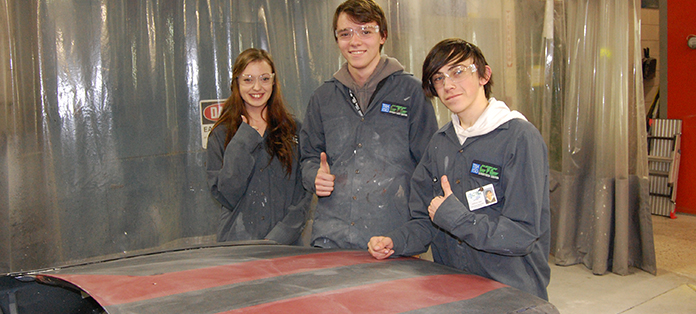 Collision Repair
Develop technical competencies and gain experience and active learning in all aspects of automobile and light truck body repair service. From welding to painting, the end result leads to certification in a highly rewarding career.
---

Collision Repair Summary Sheet
CORE SKILLS
Proper use of hand/power tools
Industry safety procedures
MIG welding
Painting preparation and application

Repair and refinishing procedures
Teamwork/employability
Communication skills
FUTURE CAREER OPTIONS
Auto repair technician
Auto refinishing technician
Shop manager

Parts specialist
Insurance adjuster
CERTIFICATIONS and ACADEMIC CREDIT
English and/or math credit
MI unitized body structural repair
Visual Performing Applied Arts credit

Post-secondary articulated credit
ASE student certifications
PASSES Edge workplace safety certificate
SETTING STUDENTS UP FOR SUCCESS
Making connections with guest speakers, field trips, and taking advantage of job shadows, co-op and work experiences gives students real experiences in the field of auto body repair.
LEADERSHIP and SCHOLARSHIP OPPORTUNITIES
Club participation, competition and leadership can occur with Skills USA, National Technical Honor Society and Student Council.