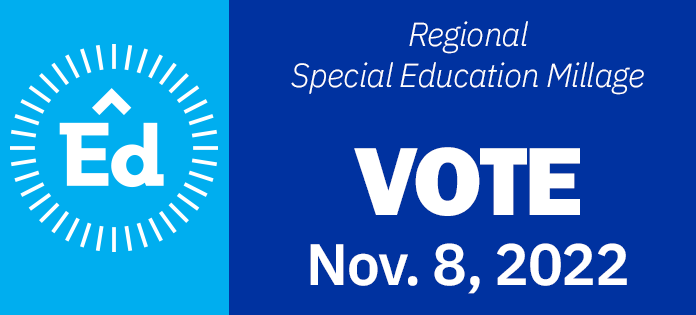 Regional Millage 2022
Special Education Millage Proposal
Northwest Education Services ("North Ed"; formerly TBAISD), in partnership with school districts in Antrim, Benzie, Grand Traverse, Kalkaska and Leelanau counties, is proposing a restoration millage to support Special Education services throughout the region. The millage question will appear on the Nov. 8 general election ballot.
What is the proposal?
North Ed is seeking a 0.5-mill, 10-year restoration millage (2023-32).
Currently, North Ed levies 2 mills which generates $27.5 million to support special education regionally. Taxpayers would not see the levied millage rate increase beyond the previously approved 2 mills.
Why is it needed?
The proposal aims only to maintain the existing 2-mill levy and offset potential future reductions to millage levies caused by Headlee Amendment rollbacks and the volatile rise and fall of property values and inflation.
As property values rise faster than inflation, the Headlee Amendment can cause reductions to millage levies. The proposal would allow North Ed to continue to levy the full 2 mills to support special education regionally.
What would the millage do?
Roughly 3,000 students throughout North Ed's service area receive special education services every year. The existing millage supports those services and provides funding for special education programming, facilities, equipment, employee professional development and more.
Stable funding would allow high-quality special education services to continue to be provided to students with the greatest needs. However, the millage would also minimize unfunded special education costs for local school districts, freeing up their general fund dollars to be spent on a district's other priorities, such as:
Programming for ALL students
School facilities used by the community
Support for general education staff
General operating expenses
FAQs
For a list of Frequently Asked Questions and answers, please review the document linked below.

FAQs (Updated 9.12.22)
Additional Resources
To help educate our communities, North Ed will provide additional resources and information on this webpage. Please feel free to view, print and share these resources with anyone interested in learning more about the special education millage proposal.