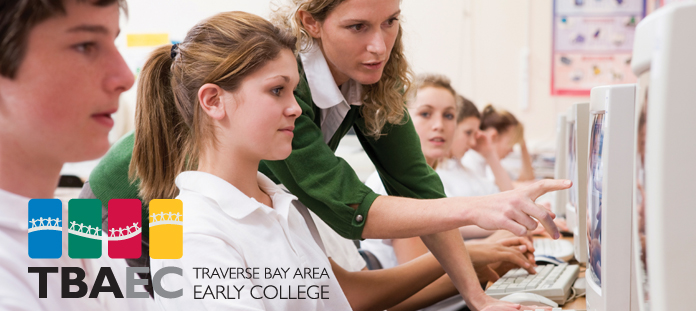 Prospective Early College Students
Why Early College?
Participating students and parents will recognize significant tuition cost savings and be on a faster track to obtaining employment in their chosen careers.
How does Early College work?
Students who enroll in the TBAISD Career-Tech Center agriscience/natural resources, Allied Health, business careers, drafting & design, Front Street Writers, information technology, Manufacturing Technology Academy (MTA), precision machining technology, or the Teacher Academy are eligible to apply for admission into the Early College program. Students will be selected for participation in accordance with Northwestern Michigan College and Ferris State University admission requirements. Early college students who qualify will work with advisory personnel to select a sequence of high school and college courses leading to the completion of all Michigan Merit Curriculum requirements, as well as an associates degree or technical certificate and/or a minimum of 32 transferrable college credits upon successful completion of the program.
2021 Virtual Information Sessions for Prospective Students
High school freshmen, sophomores and parents are invited to attend virtual information sessions
Traverse Bay Area Early College is offering virtual information sessions on the dates below for high school freshmen and sophomores who would like to learn more about the many educational benefits of Early College.
Virtual Info Sessions
No pre-registration needed. Just click the links to join!
All sessions at 5:30 - 6:30 p.m.
Monday, March 15, 2021 meet.google.com/kdj-uydi-sew
Thursday, March 18, 2021 meet.google.com/gqj-njyg-xhm
Tuesday, March 23, 2021 meet.google.com/zum-ktki-fun
Contact Ashley Darga at adarga@tbaisd.org with questions.