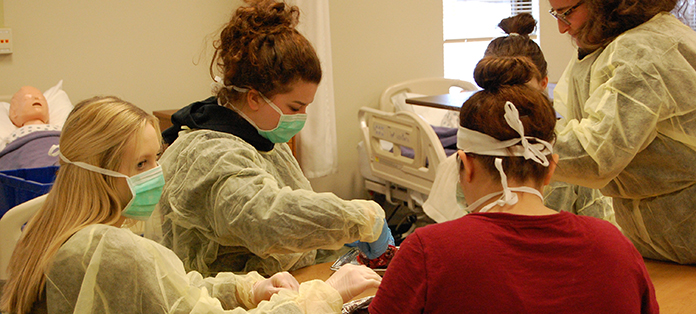 Health Sciences
Gain a strong foundation in the health sciences while learning and practicing skills that prepare you for a career that promotes health and wellness, treats injuries and provides care. Students will be introduced to basic knowledge, skills, and values necessary to perform effectively in the health care workplace.
---

Health Sciences Summary Sheet
CORE SKILLS
Principles of infection control
Medical terminology
Workplace safety
Medical ethics and law

Anatomy and physiology
Teamwork/employability
Communication skills
FUTURE CAREER OPTIONS
Registered nurse
Nursing assistant
Surgical technician
Physical therapist

Athletic trainer
Medical assistant
Medical laboratory technician

Dental assistant
EMT/paramedic
Veterinarian
CERTIFICATIONS and ACADEMIC CREDIT
English and/or math credit
Science credit
Visual Performing Applied Arts credit

Post-secondary articulated credit
CPR and first aid certification
PASSES EDGE Workplace Safety certificate
SETTING STUDENTS UP FOR SUCCESS
Making connections with guest speakers, field trips, and taking advantage of job shadows, co-op and work experiences gives students real experiences in the field of health careers.
LEADERSHIP and SCHOLARSHIP OPPORTUNITIES
Club participation, competition and leadership can occur with HOSA, National Technical Honor Society and Student Council.