Attendance Information
Attendance Hotline: 231.922.6320
Parents, please call the attendance hotline on the day your son/daughter is absent from their Career Tech program.
All personal absences need to be reported by calling the Career Tech attendance hotline as well as the student's home school attendance office. Parents can expect to be notified by an automated phone system, School Messenger, for any unreported absences. Parents are given 48-hours to report or verify student absences. The hotline and message system are available 24 hours a day.

PowerSchool Portal - Check student grades and attendance


Career Tech Student Handbook - for guidelines, policies, and expectations.


Career Tech Schedule a resource for important dates to note.
Saturday School (Click Here)
Career Tech offers a Saturday School to provide an opportunity for students to earn a make-up day(s) for excused absences. For every 2 hours a student is here they will receive one make-up day to be applied to an excused absence. Sessions start at 7:00 a.m. and end at 2:00 p.m. Students need to sign up in advance to take part in Saturday School through Student Services or by using the provided QR Code for sign up. Every two-hour (2) session equals one (1) make-up day. You must be here by the time you select as exterior doors will be accessible ten (10) minutes prior to the hour and they will be locked at one (1) minute past the hour. Exterior doors will not be opened again until ten (10) minutes prior to the next hour.
Make-up days scheduled for Semester 1: November 12, December 10, January 7, January 14
Make-up days scheduled for Semester 2: March 11, April 15, May 13, May 20
Sign up with QR Code below or link to form here: Saturday School Google Form Link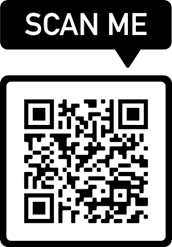 HOME HIGH SCHOOL RELATED ABSENCES (No Penalty)
1. Snow/inclement weather days called by sending school or North Ed
2. Home high school calendar conflicts
3. School-sponsored activities as determined by home school
4. Armed services: ASVAB testing or physical
5. College visitation with home school approval
PERSONAL ABSENCES*
1. Illness/or absences for medical appointments
2. Family vacation/event (wedding, funeral)
3. Arriving too late or leaving too early
4. Funeral attendance
5. Wedding attendance
6. Penalty day assessed every third tardy
7. Legal business
8. Homebound students
9. Time cards not turned in
10. Religious holidays
11. Hunting
13. More than 15 minutes in the sick room
*Extended illnesses, bereavement or extenuating circumstances will be reviewed on an individual basis by the administration and teacher. The student is required to obtain a special consideration contract/request prior to review. Students 18 years of age must still have parental notification of absences unless authorized by an administrator.
TARDINESS
All students who are tardy are required to report to the Student Services office. Tardiness will be penalized by a loss of daily work ethic points. Every third tardy will affect attendance as a penalty day. If the student arrives later than 15 minutes after the home school's start time or leaves 15 minutes before the scheduled home school departure time, a tardy is recorded. Upon the sixth tardy, the student may be referred to Career Tech administration for further progressive disciplinary action.
Please refer to the Career Tech student handbook for a full reference of attendance expectations.