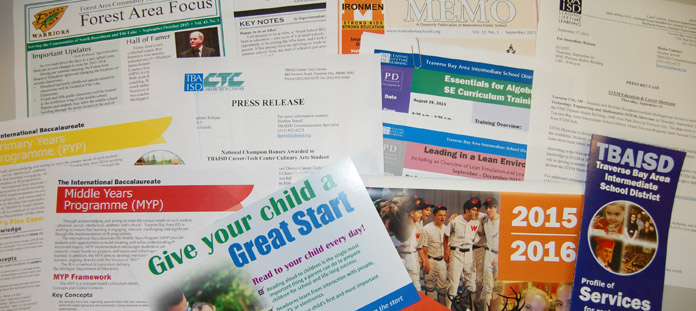 Communication Services
Northwest Education Services (formerly TBAISD) Communication Services assists with the collection, preparation, writing, and dissemination of information. Production of marketing and publicity materials for educational events at both the ISD and local district level is a service provided by this department. Services include:
Production of newsletters, brochures and other marketing collateral
Graphic design and layout services
Writing and editing services
Media and community outreach
Digital media support services
North Ed School Alerts
Northwest Education Services shares important and timely information, such as school closures and urgent news alerts, with our school community via SMS text messaging. All texts from North Ed will come from the number 67587.
This service is provided through Intrado SchoolMessenger Solutions. North Ed does not charge you for this service, though data rates and messaging fees may apply. Check with your wireless carrier for possible charges.
To participate in this service, simply text any one of the following words to the number 67587: subscribe, optin, or yes. Repeat the opt-in process for any wireless phone numbers that you wish to include. You'll know you were successful if you receive the following reply message:
You're registered 4 SchoolMessenger notifications. Reply STOP to cancel, HELP for help. Msg&data rates may apply. Msg freq varies.
NOTE: If your cell phone number is not on file with the school, you will not be able to receive text messages. Texting is limited to contact numbers tied to the district staff and student databases and not available to the general public.
North Ed Communications Plan
Northwest Education Services strives to ensure effective communication with all of our stakeholders. To assist us in achieving that goal, a revised communications plan has been developed. We will continue review and revise this plan in response to the needs of our school communities. If you have any comments or suggestions, please email us at NorthEdNews@NorthwestEd.org.

North Ed Communications Plan