North Ed Brand Resources
Brand Integrity Starts with YOU!
The Northwest Education Services (North Ed) brand offers established design standards to help members of our organization or partners in education communicate with clear and consistent voice and visual identity. The more unified we are in our brand identity, the better others understand the good work of our organization.
The brand identity manual and quick guide below provides the strategic framework and style guidelines for North Ed. It is important to use original image files of logos and artwork in all communications materials, including but not limited to flyers and reports, digital screen graphics, sponsorships, advertising and branded event materials.
The best measure to ensure the integrity of the North Ed brand is to work with the North Ed Communications Department.
Contact us: NorthEdNews@NorthwestEd.org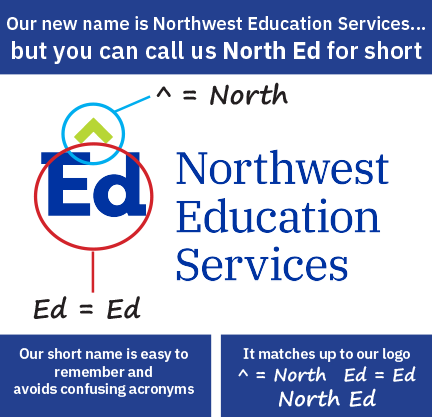 Please Do:
Use Northwest Education Services the first time you reference the name in a document.

Refer to North Ed in documents after you have met the expectation above.
Please Do Not:
Do not replace our name with an acronym or shorten it to anything other than North Ed. NES, NWED, NED, NWE or Northwest Ed are not acceptable forms of our name.